C.D. NOTEBOOK/Premium C.D. NOTEBOOK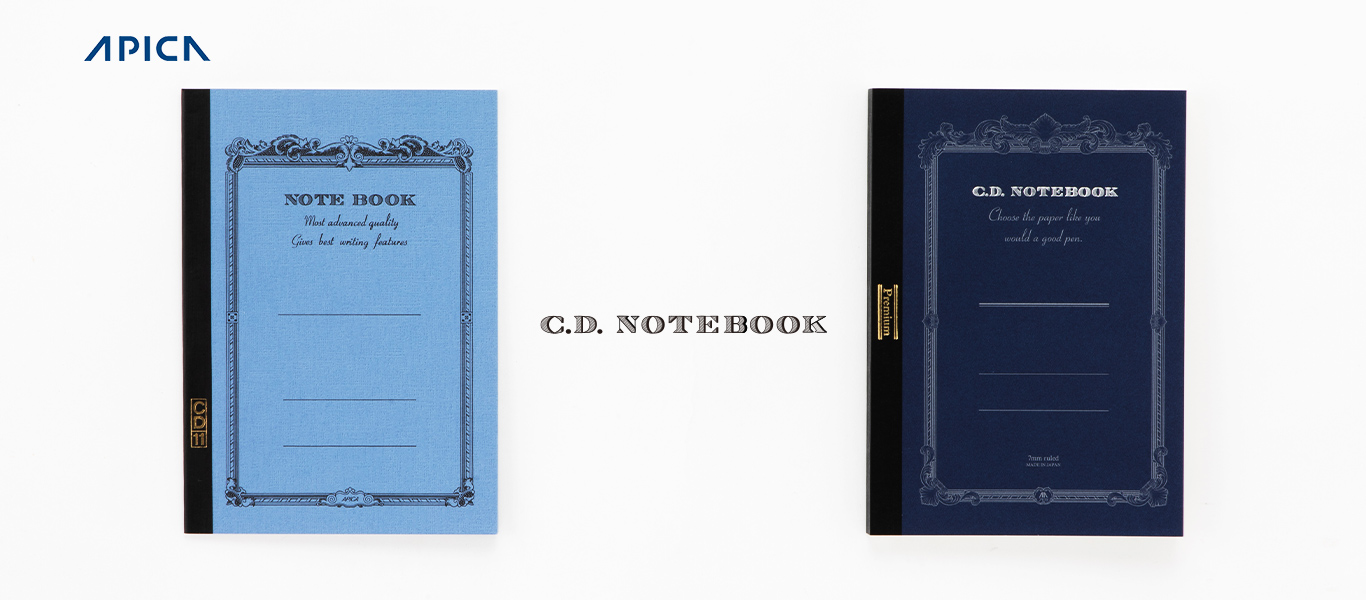 C.D. NOTEBOOK
Several carefully-selected key features characterize the notebook.
High-end classic notebook
The CD Notebook has been popular with our customers for many years.
Paper

The paper used for the inner sheet is an original acid-free paper with superior writability, developed in collaboration with Oji Paper.
Many notebooks use acid-free paper these days, but until APICA released notebooks with acid-free paper for the first time in Japan in 1984, most notebooks had used acidic paper. When acidic paper in notebooks reacted with moisture in the air, they degraded quickly, making them difficult to preserve for extended periods of time.
With a desire to help ensure that our customers can "preserve their important records for a long time," we set about developing a writing paper that is easy to write on and durable by focusing on acid-free paper, which was primarily used in books at the time.
Design

Its cover features a classical design reminiscent of a cover of an old book.
Its trademark is the ornamental flame, which has been passed down for more than half a century. Different colors are used for the ornamental flame, depending on the cover color in order to give each notebook its own personality. The black binding tape brings out the vivid colors on the cover, tying the whole series together. Each A4, B5, and A5 notebook bears the product code (e.g. "CDXX") stamped in gold leaf.
Color

The cover features a specialty paper called fancy paper that expresses the texture and color of elegant textiles.
Thirty-four years ago, it was standard practice to use an ornamental flame and paper strewn with felt feathers, but for the sake of design and functionality (ease to use), we decided to use the specialty paper Tsuzure, with its deep, stunning color, as a cover material. In addition to classic colors such as white, red, and yellow, other traditional Japanese colors that match their covers, including greenfinch and sky, are also available.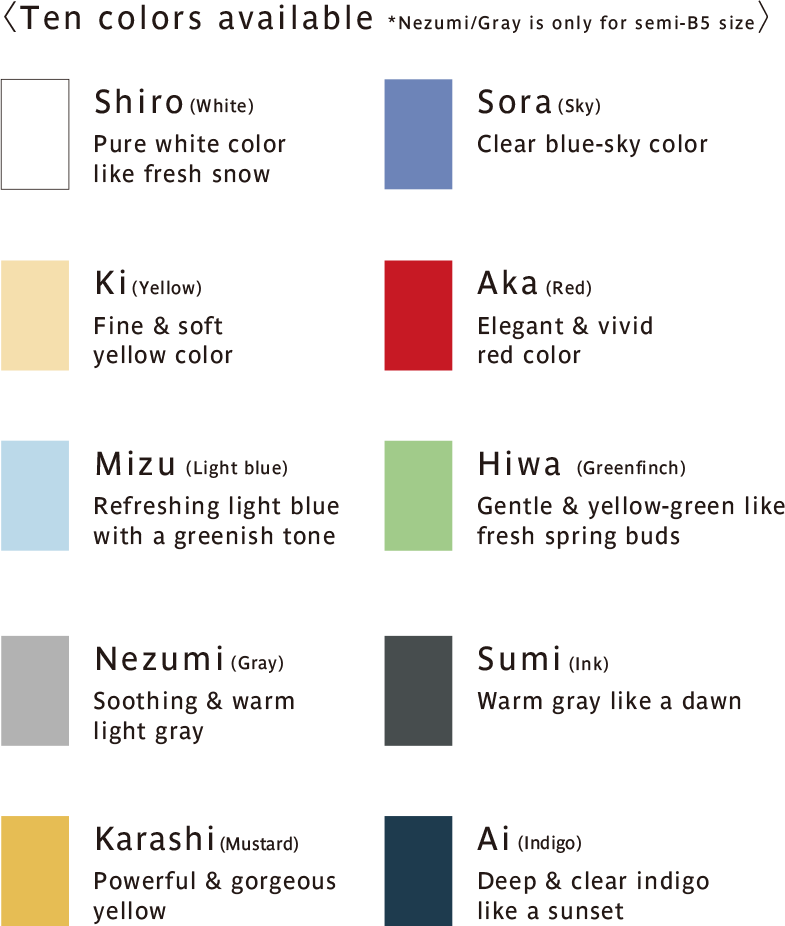 Size

The CD Notebook comes in a variety of sizes and cover colors.
The situations in which people write vary from individual to individual. Some may sit at their desks and write, carefully putting their thoughts into words. Others may use their notebooks to jot down ideas. We offer a wide range of sizes from A4 to A7 so that the CD Notebook can help you with your writing needs whatever the situation.
As sturdy thread binding is used for all sizes, you can enjoy writing in earnest, even with our small-size notebooks.
Binding

Durable thread binding is used.
Thread binding is a method in which thread is stitched through the cover and body paper using a sewing machine. Nowadays there are various other ways to bind notebooks, such as wireless binding called glue binding, staple binding, and ring binding, where wire runs through holes made in the body paper. However, it has long been said that thread binding is sturdier than other methods. It may take time and be more costly, but we believe that this is the best method to ensure the long-lasting reliability of the notebooks for our customers.
Premium C.D. NOTEBOOK
Choose the paper like you would a good pen.
For those who care about detail, this is a fine notebook for everyday use. Use "Premium C.D. NOTEBOOK" and let your thoughts bloom.
Rich "silk" and traditional "cream"paper.

There are two different writing touch of paper in Premium C.D. notebook you may choose.

The original writing paper "A. Silky 865 Premium" is used as the inner sheets.

It features a high-quality and smooth writing feel that allows you to write lightly with a fountain pen or a ballpoint pen.

Traditional "Apica cream woodfree paper" (A5 only)

This quality cream paper has been used as book paper for many years. This quality cream paper for writing has good reputations for calm color and writing touch.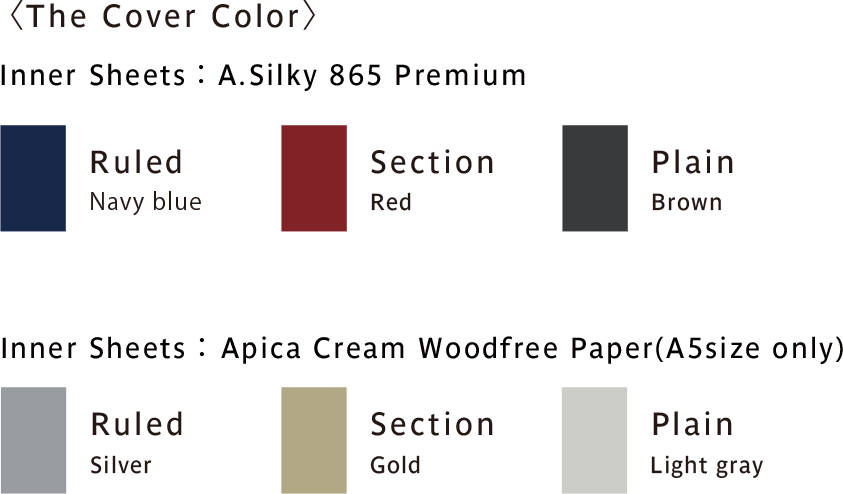 The ornamental frame with dignity

Based on our ornamental frame that has been handed down for more than half a century, we have created the original ornamental frame.
The title "C.D. NOTEBOOK" is embossed on the cover that is made of special paper with beautiful glitter. The notebook creates chic elegance.
Also "Premium" with gold foil is stamped on the bind tape.
Easy-to-open is a part of writing comfort

A binding method for this notebook is durable "thread binding" that you are able to open flat and write easily.A color thread that matches the cover color is used for a binding thread as an accent.
Choice of lines for your preference

These simple lines can be used in various scenes regardless of a purpose.The color of the cover depends on a ruled line.